So today it was super hot here in London so me and my brother and sister went to the ponds in Hampstead Heath, totally natural ponds which the public can swim in, they're amazing.
I dunno bout you guys but I'm not a massive fan of summer style - let me explain- I'm a huge fan of bare legs but when it comes to bare arms/shoulders/midriff, not so much. Currently I find dressing a lot more interesting when it involves a little more clothing (to put it basically). England has a great temperature majority of the year that you can vary clothing without finding yourself too hot or too cold (most of the time) and so when the mercury rises I get a bit stuck, and uninspired.
But today I thought I'd crack out my Ark playsuit, Ark is a great shop which so far I've only ever seen in Leeds and Cambridge but there are none in London sadly! Its my go to shop for pretty basic pieces (tops, dresses and playsuits especially) where the experimentation is more with cut and basic patterns then the overkill that can occur with those pieces of clothing in other stores.
My denim jacket has become one of my favourite in my wardrobe! It was my brothers from Year 3 (that's when he was 7/8) from Gap, now that he's grown out of it I seem to have shimmied myself in!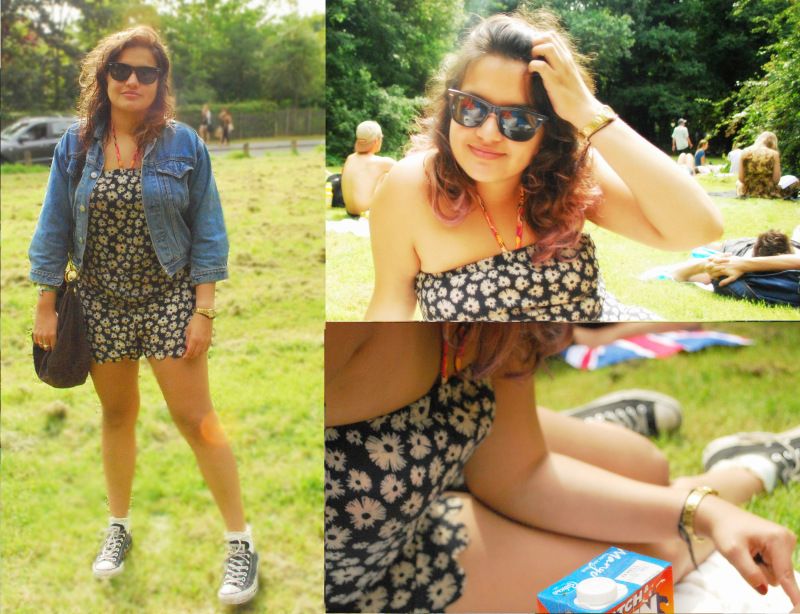 This is me and my brother and sister: